Perforce Services
Perforce is an excellent tool. But tools alone don't guarantee success. Do you know how to apply Perforce to best effect to meet your organization's requirements?
We can help you work out what you need from configuration management, define goals, and get your system adding measurable value to your organization quickly.
We can help you get the most out of Perforce.
We are consultants to Perforce Software themselves. Amongst other things, we designed, developed, and maintain the Perforce Defect Tracking Integration.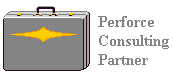 We have fully qualified Perforce Consulting Partners available.
In short, we are in an excellent position to offer you help, advice, analysis, design, development, and process relating to Perforce's fine software.
Here is an overview of what we can provide.
Solutions to configuration management problems.
Advice on how best to apply Perforce when converting to Perforce, or setting up business using Perforce.
Development of custom tools to maximize the value of Perforce to your organization.
Adaptation or extension of the Perforce Defect Tracking Integration to meet your organization's needs.
Is your Perforce repository organized to maximize the value of your product? See the white paper Requirements and Change.
We work with both large and small clients to help sort out configuration management problems. Most often these aren't just technical problems, but reflect deeper trouble. See the white paper Changing how you Change for a case study.
Please contact us if you would like more information.
Please note that although we have a relationship with Perforce Software, we do not unconditionally endorse their products, nor receive commission of any kind from Perforce. We only recommend products when we believe they meet our clients' requirements.